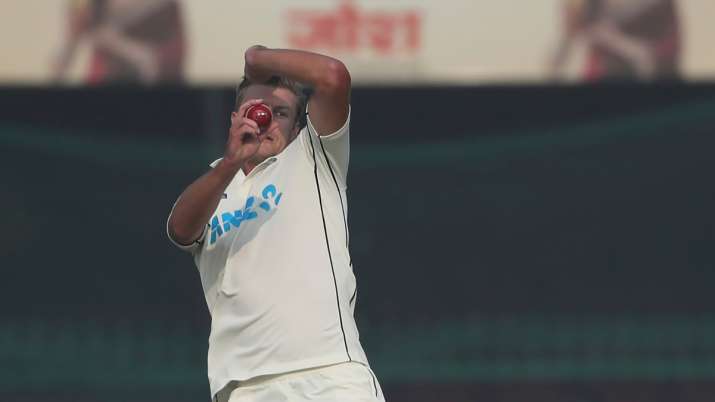 India 119/6 in 45 overs: Saha looks calm and composed, taking some time to settle in and adjust to the conditions. Supporting the set batsman- Shreyas Iyer who is playing yet another fine knock. The duo is rotating the strike well. 16 runs gathered from the last five overs.
India 103/6 in 39.2 overs: WICKET! Jamieson strikes, Ashwin departs! Indeed an unlucky dismissal as the short of a length delivery outside off stump takes an inside edge and comes crashing into the stumps. Ashwin was looking so good but. The attempts to drive on the back foot fired for Ashwin. Ashwin b Jamieson 32(62) [4s-5]
The 52-run stand between Iyer, Ashwin is broken. Eight runs from the last five overs.
India 95/5 in 35 overs: Iyer and Ashwin look composed on the pitch even after lunch. The two are keeping the scoreboard ticking and clearly doing the repair job for hosts. 12 runs from the last five overs including a few boundaries.
Lunch Break! Action resumes in Kanpur at 12:10 PM.
IND vs NZ 1st Test, Day 4 1st session: Indian batters- Mayank Agarwal and Mayank Agarwal continued on their overnight score of 14/1 but couldn't press the run throttle well. At the outset, India lost Pujara and Ajinkya Rahane. Even the opener- Agarwal departed cheaply and the star all-rounder Ravindra Jadeja walked off the field without opening his account in a stupendous swinging delivery by Tim Southee.
Shreyas Iyer and the experienced Ravichandran Ashwin then took the charge to steer India through the choppy waters and up India's lead to set a handsome total on the board for the Kiwis. The duo has woven an unbeaten 33 run stand between them.
India 83/7 in 30 overs: Iyer, Ashwin spending quality time with the bat on the pitch. Hardly giving any chances to New Zealand bowlers. Building up a much-needed partnership and sideways escalating India's lead.
India 73/7 in 25 overs: Iyer, Ashwin consolidate India's innings after early wickets. The duo is getting completely over the ball to avoid any casual and accidental hitting. Smashed 22 runs from the last five overs.
India 51/5 in 20 overs: Fine bowling from the Kiwi bowlers hardly giving any room to the Indian batters to open their arms. Besides being economical, they are chipping wickets at regular intervals. Southee looks lethal with his swing bowling.
India 51/5 in 19.3 overs: WICKET! This time it is Jadeja who departs on duck! The in-swing delivery angling in from fuller length strikes Jadeja on the pads and ends up in a clear plumb. Jadeja lbw b Southee 0(2). A maiden over with two wickets for Southee.
India 51/4 in 19.1 overs: WICKET! Mayank departs! The swing delivery outside the off-stump tempts Mayank who ends up giving a thick edge. The ball was safely grabbed by Tom Latham in the second slip. Mayank c Latham b Southee 17(53) [4s-3]
India 41/3 in 14.5 overs: WICKET! Ajaz Patel castles Rahane in an Lbw! A length delivery slid inside and hit Rahane's pad in the front. Rahane lbw b Ajaz Patel 4(15) [4s-1]
India 32/2 in 11.1 overs: WICKET! Jamieson removes Pujara! A short ball down leg, Pujara raises his arms to leave it but finds an unlucky touch off the glove. Safely pocketed by Blundell behind the stumps. Pujara c Blundell b Jamieson 22(33) [4s-3]
India 32/1 in 11 overs: Not much of the swing on offer for Jamieson and Southee unlike Day 1 in Kanpur. Both Mayank and Pujara look quite poised on the pitch, especially against the Kiwi pacers. A little concern against the spinner Ajaz Patel as the ball stays pretty low on certain areas of the pitch.
India 23/1 in 6 overs: 2 FOURS! Not a great start for Jamieson and New Zealand. Nine runs conceded from the over. Pujara, Mayank each smash a four.
Mayank Agarwal, Cheteshwar Pujara walking out to the pitch. Jamieson will start things with the ball for New Zealand.
09:03 AM: Glimpses of the Kanpur pitch on Day 4 of the ongoing first Test match.
IND vs NZ 1st Test Day 3 Highlights: India 14/1 at stumps, lead by 63 runs
Axar Patel continued his golden run in favourable home conditions, grabbing another five-wicket haul to put India in the driver's seat after New Zealand were bowled out for 296 despite an opening stand of 151 on the third day of the first Test here on Saturday.
The left-arm spinner had a couple of dream sessions when he finally found the ideal pace and turn off the surface to completely derail New Zealand's steady first innings. His final figures read 34-6-62-5 as India got a crucial 49-run first-innings lead, which increased to 63 at stumps.
Ravichandran Ashwin was also on the money as he bowled 42.3 overs to finish on 3 for 82, inching closer to becoming the third-highest Indian wicket-taker in Test cricket.
Gujarat man Axar has been terrific since he donned the India whites at the start of the year and now has as many as 32 wickets in just three and half Tests. The five-for was his fifth having already got four in the three Tests against England.